< Back to Urban Vine Co Blog Homepage
13 Proven Techniques to grow better indoor basil in less time
For those of us who enjoy growing basil but do not have access to much outdoor real-estate, growing inside may be the best option. Below are tips with respect to growing basil indoors. The tips can be broken down into these areas:

Soil for indoor growing basil
Watering for indoor growing basil
Lighting for indoor growing basil
Miscellaneous for indoor growing basil
1. Use proper soil for indoor growing basil
This helpful technique comes from Nikki Phipps from Gardening Know How. Indoor basil is difficult to grow with the wrong soil type. This is largely due to drainage, and basil's dislike for poor drainage, especially indoors. So be sure to use a well-draining soil.

Fertilizer is also a must for indoor growing basil. According to Nikki, a general houseplant fertilizer is a good solution. As a rule of thumb use the fertilizer at 1/2 recommended strength.

Last, maintain the pH level of the soil. Soil pH meters are easy to obtain, but if you want to measure the old fashioned way, you can also taste the soil (really).
Always be sure to taste some of your growing medium to determine pH....(kidding..half kidding)
2. Use "The finger test" for soil moisture
One of the best ways to determine soil moisture and need for water is to stick your finger into the soil and gently feel the root system (see below).
Go deep enough so you can gently feel the root system and how dry it is.
3. You should do this "Once A Month"
Offbeathome.com agrees that fertilizer is an absolute must for indoor growing basil. As far as application regularity, he suggests once per month.

"Organic or-slow release fertilizers (like compost tea) are best for basil. Just don't fertilize below 60 F / 16 C" - Full Article

Thanks guys!
4. When Watering: "Get to know your plants"
According to Diane Stahl, owner of Urban Roots, keeping a notebook or some type of record to keep track of plant watering needs is a good idea. Watering regimens for herbs should be "consistent" but that does not mean "often".

Keeping a record will allow you to maintain ultimate consistency. Think of it this way, how organized would your life be without your calendar? Same goes for plants and watering.
water your basil consistently, but not too much
5. Have the right "assumptions"
For many beginning basil farmers, any time growing does not happen as expected, the assumption tends to be "under-watering".

But, a word of caution: for herbs such as basil, many issues may arise from over-watering not under-watering.

As one example, leaf "yellowing" in basil and other herbs is often a sign of overwatering not underwatering. So keep this distinction in mind.
6. Lighting for Indoor Growing Basil
Another great tip from Nikki Phipps, basil indoor will require at least 6+ hours of sunlight ideally. (Tip: try to have the plant face south).

If this level of sunlight is not sustainable you will need a type of fluorescent light such as fluorescent lighting. For fluorescent lighting, basil needs up to 2x the amount of light exposure, so shoot for 10-12 hours.
Herbs like basil need more exposure to fluorescent lighting, but it could pay off
7. Fluorescent Lighting Is the best bet for taste
Bill Kohlhaase of Planet Natural advises that even if you can muster out 6 hours of natural light while indoor growing, the goal shouldn't be to just barely eke enough light.

Proper lighting in herbs like basil result in the development of essential oils which provide great taste. For this reason, generous fluorescent lighting is a great idea, especially if you are planning on harvesting more herbs rather than less.
You may not want to rely on daylight when indoor growing greens, especially in the winter
8. Distance of Fluorescent Lights from Basil
According to Master Gardener Connie Campbell, the grow lights should be no more than 6 inches away from the herbs when growing indoors.

Especially for basil, a plant that craves heat warmth + a healthy amount of direct light, having the lights as close as 3 inches is not out of the question.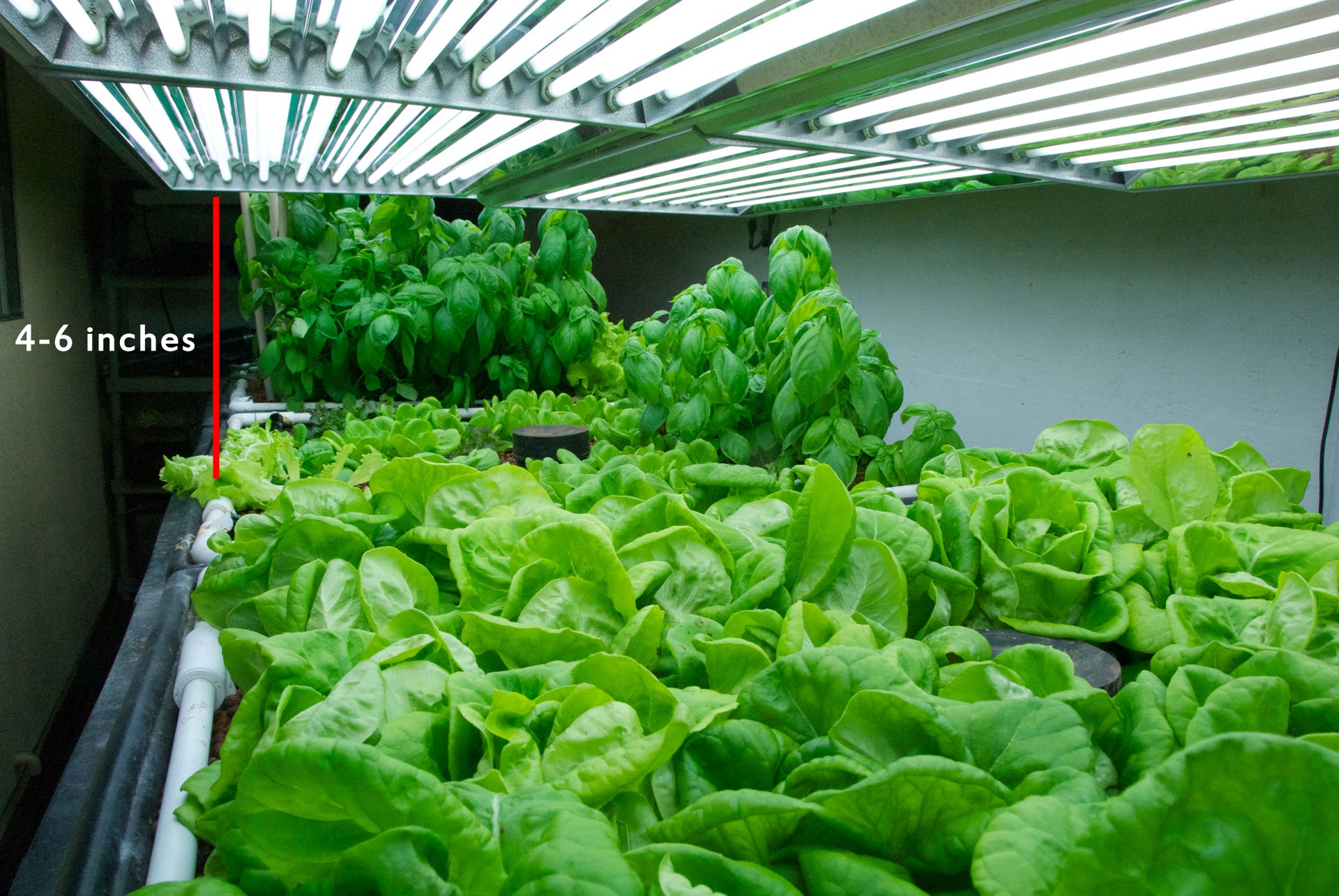 Grow lights should be relatively close to the basil
9. It is possible to grow without dirt indoor, ask Melissa K. Norris:
In Melissa's wildly popular article "Grow basil indoors without dirt all winter!", she details the process of growing dirtless basil indoors.

And not just that, you can get it up and running in less than 10 minutes.

Here's how:
1. Buy 1-2 bunches of basil at the store
2. Find some mason jars (quart size)
3. Add water (full details in her post)
4. Place plants in water, and in your sunniest window
5. Place leaves as close as possible to glass, even let them touch
6. replace water every week or so
7. Harvest

Once again, Melissa's full post here
10. Repotting
According to Houseplants Expert Jon VanZile, "most people eat their basil before they can repot it!".

Jon suggests that seedlings can be repotted after 2 weeks in a 4" pot, but beyond that, repotting won't become a necessary action.

What this means - less hassle for you! Onward! (3 left)
Just an herb out here looking for a new pot...
11. Managing Pests
Pests can occasionally be problem for your indoor basil growing operation (for more details on pest control check out our urban farming basil resources page).

Common pests include aphids and some forms of beetles and slugs. We have heard that Liquid Seaweed fertilizer is often an effective way to control a variety of pests that upon occasion will invade healthy herbs like basil growing indoors.

But wait, there is good news - On the scale of "1 to pest", basil is about a 3. It has less issues with pests, and even repels some insects including mosquitoes.
In case you forgot what seaweed looks like
12. What types of basil are best to grow indoors?
Based off of info from a www.guide-to-houseplants.com "How to grow basil indoors", some of the most popular forms of basil for indoor growing are:

Tiny Leafed Cultivars of Basil
- O. basillicum 'Minimum' a.k.a. "Greek Basil"
- "Green Bouquet"
- "Spicy Globe"

Purple Basil
- 'Purpureum' - purple coloration on leaves
- 'Purple Ruffles' - similar to Purpureum but curled, jagged edges on leaves

Master gardener Connie Campbell admits that growing basil is one of the more difficult herbs to grow indoors if you do not follow the right steps, and suggests the best types to try indoors are:

- "Spicy Globe"
- "African Blue"
Spicy Globe Basil
13. Best Containers
In a post titled How to grow basil indoors by www.growing-basil.org, the options for indoor growing containers are broken down:

Clay: Requires more frequent watering, will retain soil heat poorly

Plastic: cheap, retain soil heat more adequately, but not durable over time (if you are growing for just one season as a test run, this is the best low-maintenance option.)

Stone/Concrete: Very durable, but also v-e-r-y heavy. Probably you should stick to outdoors for stone and concrete.

Glass: If attempting soil-less growing, your likely choice is a quart size mason jar, as described above (#9).
< Back to Urban Vine Co Blog Homepage