> Have you ever wanted to grow fresh herbs and greens from the comfort of your home, but don't know how the heck to get started?

At Urbanvine.co, we've finally found a solution to easily, quickly, and economically greens and herbs.

This system has been designed by indoor growing experts at places like the University of Wisconsin and NASA...
How you can (easily) grow delicious herbs and greens indoors in 21 days
Mark Twain once said:
"The secret to success in life is to eat what you like"
If you like greens and herbs, how amazing would it be to grow an unlimited amount right from your kitchen, without any messy garden work or weed pulling in the red-hot sun?
What if you could return from a long day of work and have a ready to harvest salad waiting for you? (no inconvenient trip to the store required)
What if you were able to produce so many greens and herbs you could eventually start selling some for a profit on the side?
If you could do all of this with less than an hour of set up and no growing knowledge required, how would that change your life?
Dear urban farming beginner,

this outcome is closer than you think...

what if you could grow, from the comfort of your kitchen, things like....

- Greek Oregano
- Summer Thyme
- Siberian Kale
- Chinese Cabbage
- Red Cabbage
- Mizuna
- Elidia Basil
- Sweet Thai Basil

without struggling through a "how to grow" article ever again?
What if this solution paid for itself?
What if you could actually profit from the solution?
And have your first harvest in 21 days....
The product described above exists, if you want to learn more, read on.
Introducing, the LED Habitat
The LED Habitat uses the latest indoor growing technology so you can grow:

- easier
- cheaper
- faster

than ever before. How?

More details below..
Grow like a pro without any knowledge or experience:
Did you know only 2% of the people have any farming experience?

If you are in the other 98% you will have quite a bit of difficulty growing anything unless you use an automated system designed for beginners like the LED Habitat.
The LED Habitat:

- Comes fully assembled (Dimensions: 16"L x 10"W x 20"H)

- Ships with all necessary growing components (Light, Tray, Seed Pad, Power Cord, Potting Mix)

- Requires minimal supervision between set up and harvest (Simply place seed mat in tray, place tray in Habitat, plug in high efficiency LED light, and that's it!)
Here's what Marta had to say about the LED Habitat:
"Came fully assembled, and I had it planted in less than 20 minutes out of the box! Seed mats are super easy to plant, and my lettuce mix was out of the ground in just 3 days. Love that it sits on my kitchen counter where I can get my daily garden fix through the winter."

- Marta
To get your LED Habitat now, click here (stock is limited)
Make your money back growing, (and then profit)
Did you know the price for organic kale (According to Food Co-Op.com) in supermarkets has risen over USD 0.38 per oz recently? (over 6 USD per pound)
At this price point with the growing capabilities of the LED Habitat, it would take you somewhere in between 30 and 50 harvests of kale to pay for the cost of the Habitat itself...
After that? Straight profit.
Here's what Cathy said about the output of the LED Habitat: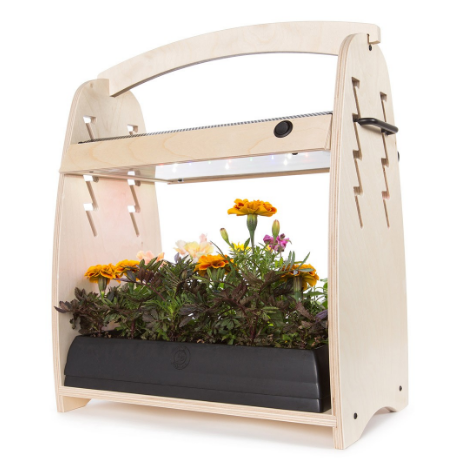 "Have been harvesting lettuce, and herbs all winter long! So easy to use. Have it set on a timer, and the growth is fantastic. Have been sharing my produce with friends! Could not be happier with this product 😊"

- Cathy
To get your LED Habitat now, click here (stock is limited)
Get growing ... faster than you ever thought possible
One of the biggest advantages of the LED Habitat is the speed that you can grow.
Plants will be mature by 21 days and you will see plants out of the ground within 5 days.
The reason for this accelerated growing time is the quality of the lighting. The LED Habitat uses some of the most advanced LED lighting tech, incorporating research from the University of Wisconsin-Madison and NASA.
With this growing speed and our LED Habitat satisfaction guarantee (details below), you will be able to try multiple harvests and still return the product if you are not blown away by the results.
Here's what B.K. said about the LED Habitat:
"I'm harvesting my third salad today--that I grew myself! First time I've ever grown a garden, and I'm hooked. Best gift. Ever"

- B.K.
To get your LED Habitat now, click here (stock is limited)
Are you ready to be the urban farmer you've always wanted to be?
As you can see, the LED Habitat:

1) Allows you to grow countless types of leafy greens and herbs with less than an hour of set-up and no farming experience necessary
2) Produces enough crop output to allow you to sell what you grow, and pay for the cost of the LED Habitat after 30-50 harvests
3) Grows plants fast. Depending on the plant, lighting intensity, and how mature you want to harvest plants, you will have plants visible out of the ground within 3 days.
How to Try the LED Habitat yourself
The LED Habitat is available today for 399.00 USD. For this price you will receive:

1. Varnished Wood LED Habitat (Dimensions: 16"L x 10"W x 20"H)

2. Adjustable Intensity LED Panel installed in the Habitat Frame (uses less power than 30 W lightbulb)

3. Seed Mat so you can instantly start growing your own kale, basil, lettuce, oregano, thyme, and more!
Urban Vine Co Bonuses
At Urbanvine.co, we've taught over 30,000 people the basics of urban farming and believe in empowering new urban farmers. We truly believe in the LED Habitat product and have seen it's results first-hand.
For that reason, you will receive the following bonuses when you buy today:

1. Free soil mix. You will receive nutrient enriched soil mix, applied on top of the seedling mat, to help provide a strong foundation for your plants.

2. Free Shipping. We will ship your LED Habitat and included accessories to you, no additional cost.

3. 30 minute set up and introductory call: We will get on the phone with you and walk you through your LED Habitat set up, step by step, and provide tips or answer any questions you may have.
To get your LED Habitat now, click here (stock is limited)
Satisfaction Guaranteed in 60 days, or your money back.
We are so confident in the value of the LED Habitat, that if you notify us within 60 days of purchase that you are not satisfied, we will immediately refund you upon arrival of returned LED Habitat.

Given the short growing cycle of the plants included in the seedling pad, you will be able to harvest tons of greens and herbs to see how much you like the LED Habitat.
24 Hour Refund Guarantee
If you order an LED Habitat and decide within 24 hours you do not want it anymore, we will immediately refund you.
Act Now, Stock Is Limited!
You now know the benefits of the LED Habitat, you know:

- It's easy to set up
- It pays for itself
- It produces results fast
You also know:

- You will receive free shipping
- You will receive all components necessary to start growing instantly
- You have 60 days (2 full months!) to return your habitat and receive a FULL refund.

So what are you waiting for? Click here to go to the checkout page, enter your payment and shipping information, and you will be on your way to becoming a successful urban farmer!

Still not quite convinced? Check out Sean's in depth account of his LED Habitat experience:
"I can't say enough about how great this product is. I have it in a spot in the kitchen where I previously tried herb gardens, but could not get enough sunlight to the spot. The herbs would last a while then die. This is the perfect solution. Perfect sunlight and the wicking system works fantastically. It takes the guess work out of watering. I can see myself with more of these habitats all over the house. They are well made and work just as advertised. Love it"

- Sean
Included in shipment: LED Habitat with LED panel, trays, seedlings, potting mix, power cord.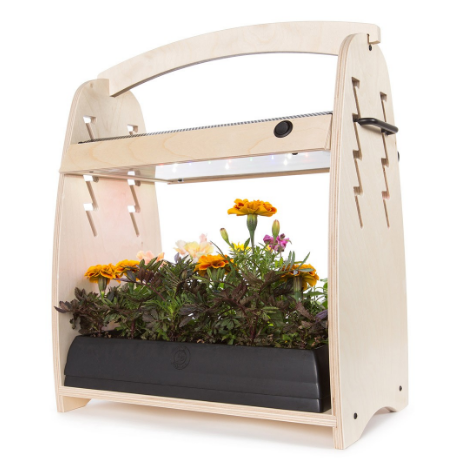 HOW TO ORDER YOUR LED HABITAT
1. Click the button below
2. Enter your payment and shipping information
3. Receive Confirmation Email With Confirmation Details
4. Schedule your introductory set up call
5. Congratulations, you are now an urban farmer!
I LOVE the LED Habitat Pro that you all sent me - use it daily since it arrived. I can't imagine not having it in my dining room, especially during the cloudy days that passed in winter and now early spring in Ohio. I know I could just go out in my geodesic bio dome, but there is something really special about having the LED Habitat in my main living space.
Click Below To Order